Catholics Go Here RELGION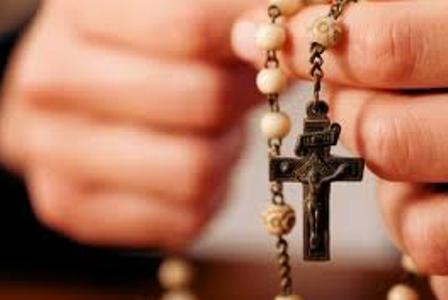 Consider These Things
Avoid the Great Tribulation
The following is a letter emailed to a kind Catholic lady. I worry so much about people who might be "left behind" to suffer in the Great Tribulation. The Catholic people are some of the most wonderful Christians on the face of the earth but the Bible warns about some behaviors that might potentially cause them, because of their practices, to be "cast into" the Great Tribulation. I pray I am wrong, but my heart strongly tells me … I'm not.
As noted in an article I recently read on another site regarding prayer to or through Mary:
We are not to pray to her, hail her or seek anything from God through Mary.

1 Timothy 2:5

says: "For there is one God, and one mediator between God and men, the man Christ Jesus." It is Jesus Christ who is our advocate with God The Father.

Jesus is our High Priest who we take our prayers too.
I could not have said this better myself. Glory to Jesus.
Please prayerfully consider this email below:
This letter was a response to a nice lady who mentioned she is Catholic, mentioned rosary beads and referred to asking Mary for intercessory prayer:
Just to be sure, because you know I am super-passionate about *everyone* making the "rescue mission" (rapture), you do pray to God in Jesus name and talk to Jesus directly right? The reason I am checking on you is because I truly do care.

You are not allowed to say "Hail Mary's" (that's a type of prayer to Mary) …. you are calling (hailing her) and asking her to help you "pray" … Jesus considers that "fornication" or "idolatry". I know that sounds harsh but unfortunately it is critical you realize this.

I don't want to see ANYONE go into the Great Tribulation … its going to be horrible.

You see, all of the "saints" are dead people, including the Mother of Jesus Christ … Mary. Mary is simply a person who died. So are all the saints. If you do not confess your sins, and repent directly to the Father, in Jesus Name as it says in the Bible, (or to Jesus directly) you are "running the risk" of being cast into the Great Tribulation.

Many people believe, and I agree, that the Church of Thyatira (in

Revelation 2:18

) is referring to the people in the Catholic Church (metaphorically).

Here are the verses:

Rev 2:18-23
"And to the angel of the church in Thyatira write,

'These things says the Son of God, who has eyes like a flame of fire, and His feet like fine brass: 19 "I know your works, love, service, faith, and your patience; and as for your works, the last are more than the first. 20 Nevertheless I have a few things against you, because you allow that woman Jezebel, who calls herself a prophetess, to teach and seduce My servants to commit sexual immorality and eat things sacrificed to idols. 21 And I gave her time to repent of her sexual immorality, and she did not repent. 22 Indeed I will cast her into a sickbed, and those who commit adultery with her into great tribulation, unless they repent of their deeds.
NKJV

"Sexual immorality" is a "metaphor" for praying to idols. This includes any time you see a priest and confess your sins, praying "Hail Mary's" as a type of penance.

You cannot:

Confess your sins to a priest
Seek a "Saint" to help you pray as an intercessor

This is metaphorical "fornication" before the Lord.

You must pray *directly* to our Heavenly Father in the Name of Jesus. Your relationship must be directly with Jesus Christ in person.

This is a proper prayer.

Dear Heavenly Father, please in the Name of Jesus, forgive me of my sins. I didn't mean to do that and I promise I won't do it again. I am asking you to help me with this problem I am having. In Jesus Name I pray …. Amen

You can also pray directly to Jesus if you want.

Dear Holy Lord Jesus, Please forgive me for this and that.

Look at what the scripture says about how to pray. This is Jesus speaking.

Matt 6:7-13
7 And when you pray, do not use vain repetitions as the heathen do. For they think that they will be heard for their many words.

(Note vain repetitions .. Mother Mary … Hail Mary … that is what this is referring too)

8 "Therefore do not be like them. For your Father knows the things you have need of before you ask Him. 9 In this manner, therefore, pray:

Our Father in heaven,
Hallowed be Your name.
10 Your kingdom come.
Your will be done
On earth as it is in heaven.
11 Give us this day our daily bread.
12 And forgive us our debts,
As we forgive our debtors.
13 And do not lead us into temptation,
But deliver us from the evil one.
For Yours is the kingdom and the power and the glory forever. Amen.
NKJV

And you should always end a prayer "In Jesus Name" (this is all over Acts and the Gospels)

Here are some prayers that the Lord gave a brother named Larry and people have been emailing me from all over the world on the amazing changes that have happened in their lives.

Please forgive me if you already know all these things, but my heart is breaking for people who don't know this stuff and might be "left behind".

God Bless You and again Thank YOU for your wonderful kinds words. Amen yes the Dimitru Duduman testimony is most astonishing.

Watch out for May 20th. Many people are suggesting it will be a huge global earthquake day … we shall see.

Keep watching and Keep Praying!!
God Bless YOU!!